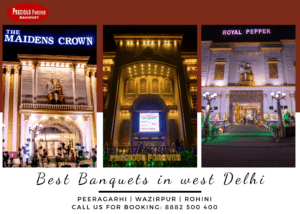 When it comes to hosting grand events and celebrations in West Delhi, These banquet halls in West Delhi are the go-to choice for those seeking opulence and convenience. Here, we will explore the top luxurious banquet halls in West Delhi, including Peeragarhi Royal Pepper Banquets, The Maidens Crown and Precious Forever Banquet. These banquet halls in West Delhi  redefine extravagance and offer a wide range of facilities to make your events truly memorable. In whole of the Delhi, these venues are what attract the crowd of the city and are always filled with guests.
1. Precious Forever Banquet
Precious Forever Banquet is the perfect choice for outdoor functions, whether it's a birthday party or a wedding anniversary. Its grandeur is evident at first glance, with a stunning fountain serving as a picturesque backdrop for a nearby bar. This venue brings a touch of uniqueness to every celebration. It is one of the popular wedding venues in West Delhi.
2. The Maidens Crown Banquet
The Maidens Crown Banquet is the epitome of luxury, offering a unique experience for grand events. With three floors and the capacity to host hundreds of guests, this venue promises an unforgettable experience.
Its proximity to Peeragarhi Metro makes transportation a breeze. wedding venue in West Delhi like this one is among the most beautiful banquet halls in West Delhi.
3. Royal Pepper Banquet Hall
Situated in the heart of West Delhi, Peeragarhi Royal Pepper Banquets is one of those banquet halls in West Delhi that is awe-inspiring architecture reminiscent of an ancient Greek temple.
Inside, guests are treated to the same grandness of the Greek culture and top-notch facilities. With exceptional food and great management, this banquet hall sets the stage for unforgettable celebrations. It is one of the most popular options available today.
Types Of Events You Can Organized at These Banquet Halls
Wedding: All of these halls are great for a big wedding function. Compared to other wedding halls in West Delhi, these halls offer much greater facilities without charging too high. They also give great attention to details so that the whole feeling of the function stays high and full of love.
Mata Ki Chowki: For deep spiritual experiences like setting up a Mata ki chowki, these banquet halls in West Delhi are a great place. They offer additional facilities that are not limited to the typical birthday or wedding celebrations. For religious events like this, these banquets are a good option.
Engagement: Another great celebration that sets the stage in a wedding hall in West Delhi for more opulent gatherings and new relations is the ceremony of engagement. Here you can easily have your engagement ceremony or even the celebration of your engagement anniversary. We offer great customized plans to make this day extra special. Our banquet hall in West Delhi is quite special.
Birthday: With us you will be celebrating the best possible birthday. We at Royal Pepper have mastered the art of making a good birthday party for our guests. Even if you want to have a birthday for whole day and night, we will be there for you. Plan with us whatever you have in your mind and see for yourself it coming alive in our banquet halls.
Marriage Anniversary:Marriage anniversary is all about reliving the same experience that you get during your marriage day it is about reminding yourself how special you and your partner is to you. With us, you'll be having a great marriage anniversary, We have great facilities that will make you feel like you felt during the day of your marriage again!
Reception Party:Reception is the soul of any party. It is when you receive your guests and give them the acclaim of attending your party. At Royal Pepper, we have highly experienced chiefs who will make sure that you're guests leaves nothing but a big smile on their face. We have what it takes to reach the hearts of the guests, Have us for your reception party.
A good banquet hall in West Delhi should be versatile and can host a wide range of events, including weddings, engagement parties, birthday celebrations, professional conferences, and even Mata ki Chowki ceremonies. Whatever the occasion, a venues provide the perfect backdrop for your special moments.
What is The price of these banquet Halls in West Delhi
The pricing is another big aspect that makes a difference. The pricing for these luxurious wedding hall in West Delhi varies based on various factors like the type of event you plan to host. It is, however, under the budget of most people and charges quite low for the additional facilities.
What is The Guest Capacity of these Banquet halls in West Delhi
The guest capacity of a banquet hall in West Delhi ranges from intimate gatherings to grand affairs, accommodating your specific needs. But generally, All these Banquets have ample space in them and even the smallest ones here are quite large when compared to many other places.
Whether you're planning a small, private event or a large-scale celebration, you'll find the perfect space to cater to your guest list in these banquet halls in West Delhi.
Are these Banquets for Small Gatherings?
Yes, many of these banquet halls are suitable for small gatherings, offering various hall sizes to accommodate your guest list, no matter how intimate the occasion.
Can these Banquet Hall in West Delhi Serve Alcohol
No Royal Pepper Banquets doesn't have alcoholic beverages as a facility but you can always bring your desired drink, you just have to let the management about it. Every banquet hall in West Delhi has different ruling.
Is Parking Available at These Banquet Halls?
Parking facilities are typically available at the banquet halls, ensuring convenience for you and your guests. However, the parking arrangements offered by these Banquets are the highest among the other options in the city.
Conclusion
Banquet hall in West Delhi are many. The halls such as Peeragarhi Royal Pepper Banquets, Precious Forever Banquet Halls, The Maidens Crown Banquet Halls. offer a luxurious and versatile setting for your special occasions.
From weddings to birthdays and engagement parties, these venues are equipped to make your celebrations truly unforgettable. With competitive pricing and various customization options, you can turn your dream event into a reality.